The 5 Hottest Swimming Pool Design Trends in 2022
Swimming pools have long been a luxurious addition to any home. With staycations on everyone's mind, people are looking for ways to make their homes more enjoyable and usable. Swimming pools are the perfect way to do that. Not only are they a great way to relax and spend quality family time but they can also be a major design amenity.
Here are five popular trends that are currently shaping the pool industry: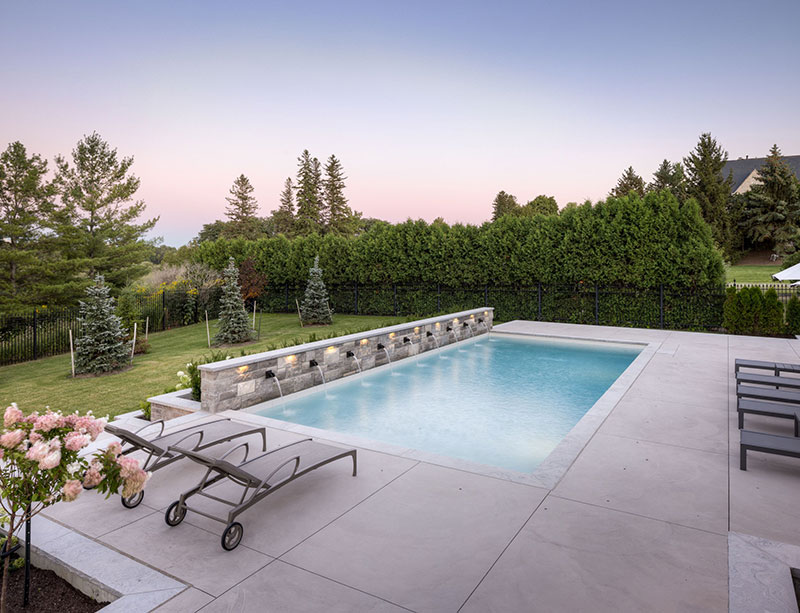 1. Natural Swimming Pools and/or Koi Ponds
Natural swimming pools are becoming increasingly popular due to their eco-friendly design. They use plants and other natural filtration systems instead of chemicals to keep the water clean. 
However, you may need to occasionally hand-skim the pool to remove any debris. Natural pools are also constructed with walls or membranes that contain soil and silt.
Natural pools come in all shapes and sizes, and can mimic the look and feel of a lake or pond. They're usually lined with a liner, stone, rock or clay, and have sloped entries – giving them a more natural look than a concrete pool.
As an added bonus, natural pools can be created from scratch or converted from an existing in-ground pool system. 
If you're looking for a natural design option that is both eco-friendly and low maintenance, a natural pond is a great way to go!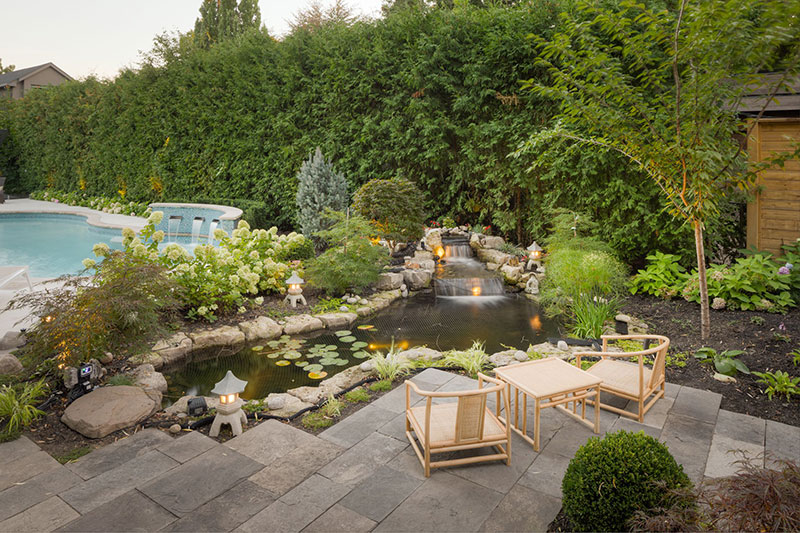 Infinity pools are another popular option for those who want to make a statement. These pools give the illusion of being infinite, and they're often located on high vantage points so that you can enjoy a stunning view while you swim. They are also wonderful applications for properties with grade and elevation changes to capitalize on the uniqueness of the terrain. 
Infinity pools are installed on sloping ground to add to the visual illusion of seamless flow, and a basin is created below the main pool to keep the water circulating.
Looking down from above the pool creates the breathtaking "disappearing edge" effect also known as a vanishing edge. Whether you're entertaining guests or simply enjoying a peaceful moment to yourself, an infinity pool is sure to make a statement.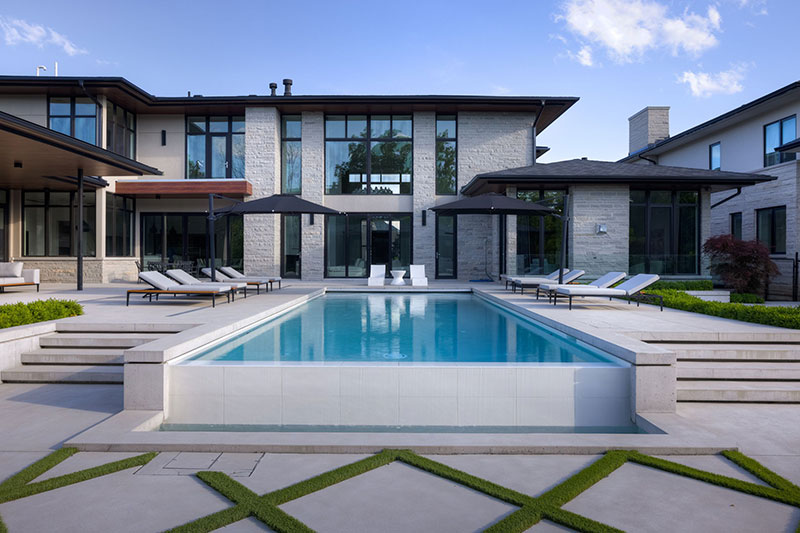 LED pool lights are a great way to add some ambiance to your pool area. They come in a variety of colors and can be controlled remotely, so you can easily adjust the colors depending on your mood or the occasion. 
These lights can offer a number of benefits, both practical and aesthetic. Here are just a few reasons why you should install LED pool lighting this year:
LED lights are more environmentally friendly than incandescent bulbs. While incandescent bulbs use 300 to 500 watts, LED bulbs use as little as 42 watts. This sharp decrease in wattage means that LED lights consume much less energy than their incandescent counterparts.
LED lights are also more durable than incandescent bulbs. They can withstand higher temperatures and are not as susceptible to breakage. This means that you can enjoy your LED pool lights for many years to come.
LED pool lights also offer a number of aesthetic advantages. These lights can provide a softer, more natural light than incandescent bulbs. They can also be used to create unique lighting effects that will make your pool stand out from the rest.
If you're looking for a way to improve your pool, then LED pool lights are a great option. These lights offer many benefits that will make your pool more enjoyable to use and more relaxing to look at. So don't wait any longer, install LED pool lighting today!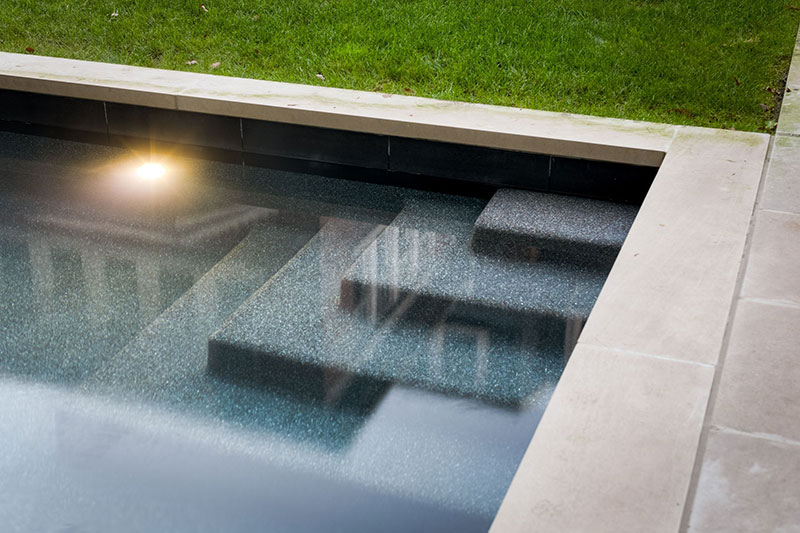 A sun ledge is a beautiful addition to any swimming pool design. The sun ledge may be utilized for sunbathing and relaxation but also as a splash pad for younger swimmers. The sun ledge is also referred to as the sun shelf.
Perfect for soaking up the sun and cooling down on a hot summer day. They are great for showcasing trendy in-pool furniture and provide visual poolside charm. Sun shelves are a wonderful option for families with young children or grandchildren, providing a splash pad feel in the pool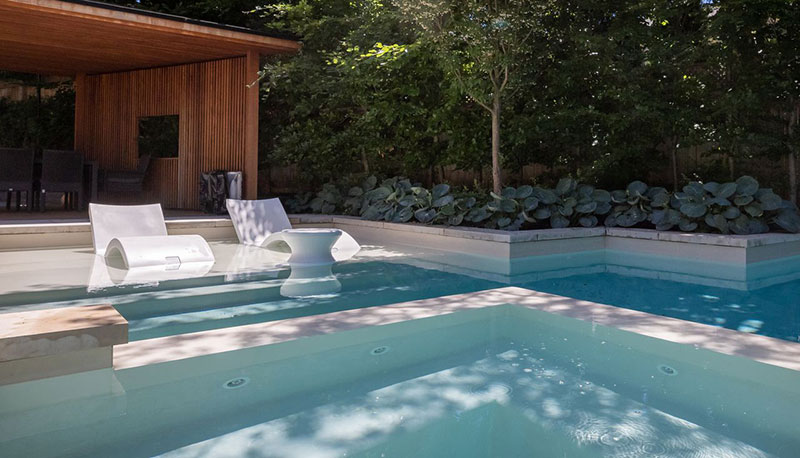 5. Dark Interior Finishes
In recent years, darker interior finishes have become more and more popular and requested. The dark interior finish compliments a sleek, contemporary rear yard design. In addition, the darker finishes tend to reflect surrounding elements such as trees and clouds. The darker interior finish provides an elegant and sophisticated look. The darker finish is especially complimentary in environments that have natural surroundings. 
The choice of interior finish is dependent on several factors. Our design team will guide you through reviewing the available options and help make recommendations for your unique and special space.
Whether you're looking for a swimming pool that will make your backyard standout from the masses or simply want to ensure you incorporate the hottest market trends, this blog will provide you with a few ideas to consider implementing into your backyard project! 
Be sure to check out our other articles on swimming pools as we are always updating our information with the latest and greatest trends. Happy swimming!